Construction projects need scheduled in advance
If you are considering construction projects such as remodeling a home or business, you should schedule your project now before the calendar starts filling up. Don't wait until you want the project done, beat the rush and put your project in motion.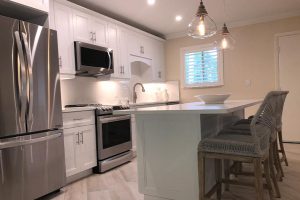 Anyone who has lived in the Naples and Southwest Florida area for very long, knows winter is a busy time. From the time we ring in the New Year until we celebrate Easter, the Naples and Fort Myers area will be bustling with activity. It's snowbird season.
Not only does that mean busy roads and restaurants but also your favorite contractors and service providers are booked. Their calendars are already starting to fill up. Don't let the holidays keep you from making a call to discuss your construction project.
Some remodeling projects, depending on the scope, may be able to be completed before the new year. If you have guests coming for the holidays or you expect plenty of visitors for vacations from the snow, get your estimate now. Although many don't like to do projects around the holidays, you may be able to squeeze in a bathroom remodel or closet remodel before the new year.
Commercial construction projects
For business owners, if you have a smaller project that needs done before the rush, you are running out of time. Get started before you hit peak season to minimize the impact on customers. If you are closed during the holidays, that could also be a good time to schedule your project.
Regardless of the scope of work or when you need your construction project complete, plan ahead. Contact a qualified contractor now so you can get on their schedule. You don't want to have to wait any longer than you have to, and you don't want to have to settle for your second or third choice general contractor.
Contact Spec Development LLC to discuss your next residential or commercial construction project. Whether it's new home construction, commercial construction or remodeling projects, they will provide a free consultation. You'll receive better quality and a better price. Call 239-331-5610.